25 March 2020
CRM and Marketing automation: coreBOS as an alternative to Hubspot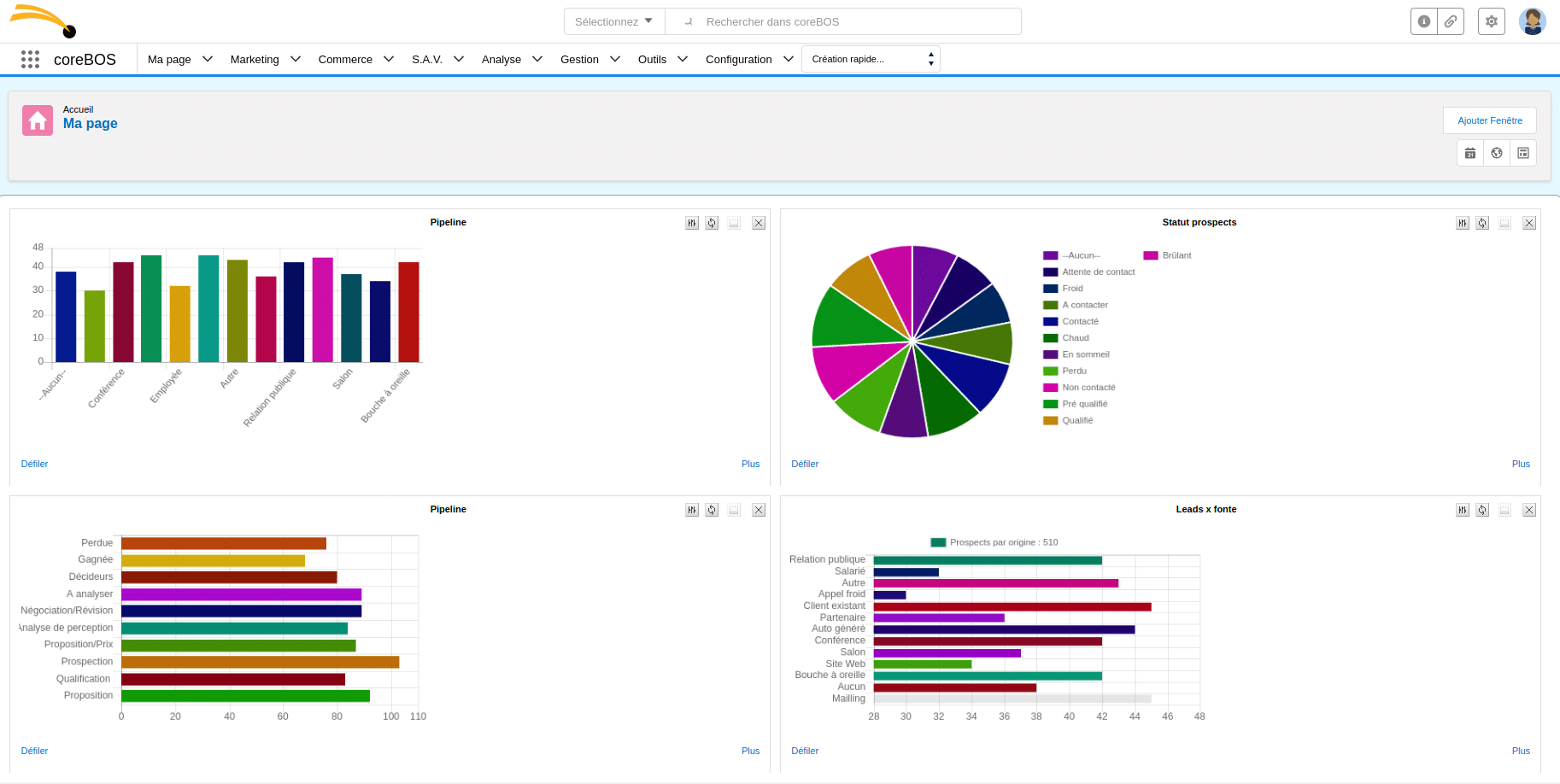 Why have we migrated all our prospect/contact management from Hubspot to coreBOS?

Archireport – Marketing and sales team
In this article, first we underline and define the benefits of working with CRM software. Finally we explain why, after two years, we decided to migrate from the Hubspot software to coreBOS.
What is CRM?
It's an acronym for Customer Relationship Management, and a CRM software program is something we use to manage the relationships we have with our customers. This fuzzy definition is an umbrella term for a set of simple and essential features that a business can use to handle its sales, management and sometimes marketing tools.
Here is a non-exhaustive list of the services available, but it can vary depending on providers:
Information can be collected and aggregated from all a business's contacts and the interactions it has with them (prospects to actual customers)
Sales and marketing operations can be organised for teams
Recurring actions can be automised to save time (e.g. if contact is made using a form, an e-mail is sent to the prospect and a task assigned to the sales representative to remind him or her to follow up)
Projects can be managed: progress, tasks, stages completed, etc.
Administrative tasks can be managed: quotes, purchase orders, invoices, etc.
Teams can be monitored and organised: task list, time tracking, travel expenses, etc.
Products, stocks and inventories can be managed
The company itself can be managed: dashboards, personalised reports, ticket management, FAQ
Marketing automation: a set of tasks to acquire new prospects, qualification, nurturing, etc.
CRM applications are often available in the form of SAAS (Software as a service). These programs are online software services you log onto with your credentials to access a set of services similar to those listed above, all hosted on the provider's servers. It is sometimes possible to host the CRM on your own servers.
Benefits of using CRM software
Using CRM software is not simply a luxury you put into place to please your manager by generating attractive weekly dashboards. Neither is CRM only for digital companies, quite the opposite actually. All types of companies (construction, distribution, service, etc.) can benefit from using this tool to improve how they manage and organise themselves, and to boost their productivity. For instance:
Private builders need to keep track of dozens of projects every year, and manage dozens of salespeople. CRM software offers immediate benefits in terms of productivity and customer project monitoring.
A bicycle and accessories business needs to manage a huge amount of stock as well as all its customers, and needs to cross reference all of that information.
Sole traders need to keep tabs on quotes, orders, invoices, etc. and ideally, chase up customers they haven't heard from recently. These companies must also keep track of their own teams and allocate time to be spent on each project.
It's a key part of running a company. The very least a CRM software can do is record the history and future of your business relationships. It is a pillar for your business.
CRM = your work tool and recruitment pool
What did we do before CRM? Excel and macros
For the most computer-savvy, Excel and its macros can automate certain recurring tasks and meet certain needs, but it's still a long way from the features available in CRM software.
Unlike its ancestors, CRM software is designed to meet the need for customer relationship management, and its ergonomics are normally tailored to that type of use.
Why are we migrating?
The aim of this article isn't to denigrate any of the platforms available on the market, but rather to show that there are accessible alternatives depending on various needs and budgets.
From our point of view and after two years of use, we decided that Hubspot is first and foremost a powerful marketing/sales machine rather than a CRM tool, and coreBOS is focused primarily on CRM with additional marketing and sales modules.
Hubspot is objectively more attractive than coreBOS, and the marketing and commercial tools it offers provide countless possibilities, but when we really looked at our needs, these tools were excessive, and we ran the risk of getting lost in its plethora of gadgets and automation features. And that's saying something, because we do love a gadget.
We moved from Hubspot to coreBOS for three main reasons:
It meets our specific need
Its price
It can host our data
Our need for features
Our needs were:
Gather and cross-reference information from our contacts (prospects and customers)
Acquire advanced configuration for contact cards with custom fields
Be able to update CRM contacts using calls to Webservices from our site monitoring application
Marketing Automation: set up our workflows to automate marketing tasks:

Automatic progression of prospect status in the acquisition funnel
Schedule commercial email cycles according to how far the prospect is within the sales channel
Assign and remind our teams about commercial tasks that depend on certain events
Send automatic emails that depend on certain events
Collect leads from forms on our showcase site to supply our pool of prospects in the CRM software program
Collect leads from our "lead capture" popup
View dashboards to monitor all business activity
Price
Hubspot: With five users on the Hubspot platform, we had been paying €1,482 / month for the modules that we activated (sales, contacts, marketing) and the offer would have risen to more than €2,200 / month in April. The offer that Hubspot advertises on its website is rather vague and changes according to the elements you customise (number of contacts, activation/non-activation of sales, marketing modules, etc.). Just take a look at their website to get an idea of what I mean.
coreBOS: With the software distributor in France, we opted for the offer at €16/month, per user, which gives us access to all the modules.
coreBOS is a free, open source software that anyone can install and configure on their own server. However we chose to subscribe to the coreBOS distributor in France offer for:
Its ability to host on a specific server
The installation and regular updating of the CRM software
Business configuration (activation/non-activation of modules as required)
User and administrator training
After-sales service
It can host our data
We could have chosen to host the CRM on our servers, but we opted for the coreBOS distributor in France offer, which provides us with secure data hosting on a dedicated server, based in France, and administration that meets our security requirements.
Conclusion
Because the coreBOS developers were so dedicated – and we'd especially like to thank Joe – our migration went smoothly. We worked on and off for two months to ensure we didn't lose any information, using both software programs. The most time-consuming part was undoubtedly rewriting our workflows for Marketing Automation.
We could go into detail about the calculations we made, but one figure certainly sticks in our minds, and that's the saving of €2,000/month we have made by going ahead with this migration.
Please do contact us to discuss this over coffee or by phone, we'll be delighted to share our experience.