24 July 2019
Archireport's price structure is changing, and here's why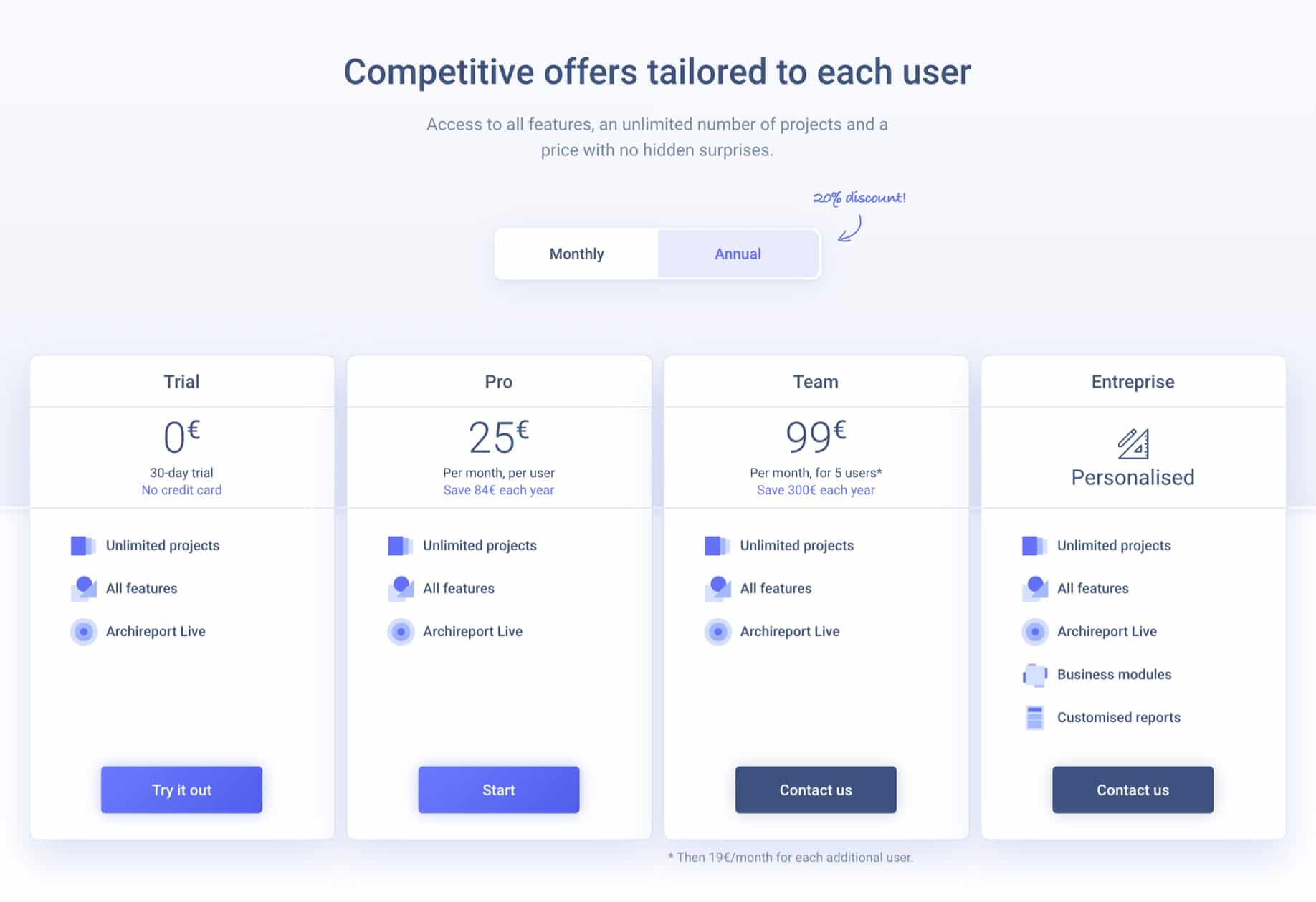 When we launched the new version of Archireport in 2015, we decided to offer a service with a monthly subscription at a single rate of €10 excl. VAT / month for every user. We've been thinking long and hard, and we've decided to make some adjustments to our pricing for new subscribers. Transparency is a key value at Archireport, so we want to explain why we made these decisions.
Basically…
We've always kept the channels of communication with our users wide open, and we've collated a great deal of requests and remarks along the way about how we should develop and amend the application. It's now clear that we need to adjust our pricing so we can rise to the new challenges that lie ahead.
From 1 October 2019, all new subscriptions to Archireport will be charged at €25 excl. VAT / month, per user for a one-year contract, or €32 excl. VAT / month with no contract, and will include the ar.live (Archireport Live) module.
For our current users who would like to retain their offer without using ar.live (Archireport Live) there are no nasty surprises in store, you can keep the same conditions that you benefit from today! That means €10 excl. VAT / month per user for a one-year contract, or €12.50 excl. VAT / month with no contract.
For our current users who would like to benefit from ar.live (Archireport Live): to express our gratitude for your long-term commitment, we have decided to offer you the chance to take the new offer with ar.live at €18 excl. VAT / month per user instead of €25 excl. VAT / month for a one year contract.
We are completely committed to setting fair and affordable prices. And let's make no bones about it, Archireport will still be the most cost-effective professional site management monitoring application on the market, and it's 2 to 5 times less expensive than competing applications.
Why is there a change in the price?
We're now almost 9 years old, and your feedback has been unanimous: what you value most is our support. The Archireport team hails from Rennes (with one member from Belgium!) but we're available wherever you are to answer your questions as best we can, so that you really get the most out of the application. Your daily encouragement proves that there is growing excitement about our application.
And we're thrilled that it has been such a great success: more than 28,000 users in over 50 countries was more than we ever could have hoped. And given this success, we realised that we had two options. Either we reduced the personalised support you the users love so much, or we strengthened our teams and adjusted our offers. We went for the second option.
Our team sends out replies to more than 1,500 requests a month, not counting the hours we spend on the phone, all to save you time. With the launch of ar.live (Archireport Live), we're going to be increasing the time we spend on support, and this is going to ramp up our need for human resources.
So with significant growth in the number of Archireport users, we believe that to maintain our personalised support and offer you impeccable quality of service, we had no choice but to increase the price of our subscriptions.
The fact that are we are so inexpensive (€10 excl. VAT / month) has actually generated a lot of questions from prospects. "So where's the catch?", "Will I have to pay for updates?", "Will there be a limit on the number of projects?", and so on. The perception of a very inexpensive service puts us at a disadvantage when it comes to creating a relationship of trust with our users. But our offers don't conceal any surprises, and we don't limit the number of projects you can work on. Updates and support are also both included in the subscriptions.
Lastly, this new pricing leads the way to a sustainable financial model and to acquiring the human and technical resources we need to grow Archireport and keep on developing our application and our services.
The right price for the right service
Our criteria for increasing our subscription prices were as follows:
Remain the most attractive offer on the market without putting a cap on features or volumes of data.
Offer an honest price that does not penalise our long-standing customers. If they don't wish to switch to the new offers, they can retain their initial offer without ar.live (Archireport Live). What's more annoying than feeling trapped by a price hike once a solution has already been deployed throughout a company?
Ensure that the offers remain easy to understand and contain no hidden options
What's next?
Feedback from the field has driven us to direct our developments towards more interactive features between site players. In particular, recipients of Archireport reports (companies and clients) are looking for tools they can use to consult and interact with contractors.
Also, you will see the ar.live application evolving in the coming months, and it will be even easier to ensure that information flows seamlessly around your sites.
Once again, we love getting feedback from you, so please don't hesitate to contact us and encourage us, just as you have been doing. We are only here today because you have supported us.
The Archireport Team