17 June 2015
ArchiReport Plus is live !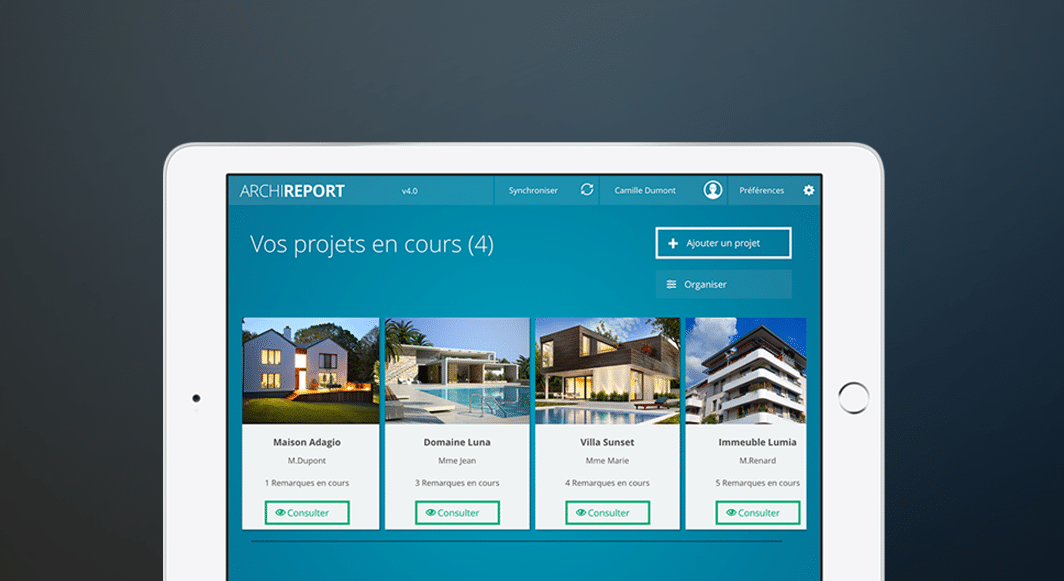 Dear users (and future users), we are very proud to announce you today the official release of our new application ArchiReport Plus.
You can download ArchiReport Plus for iPad Archireport on the AppStore.
As the proverb says, time is money. So, our commitment is to save you up 30 to 45 minutes for reports on each of your construction sites through the iPad application. With ArchiReport Plus, you can take your notes, drawings and photos directly straight from the site with your tablet. Whether you are an architect or a project manager, you will earn necessarily time.
Thanks to all your feedbacks and reviews, we improved ArchiReport to make it the most efficient possible.
Here what's new in ArchiReport Plus:
The application is fully optimized for iOS 8.
The UX (User experience) and the UI (User Interface) of the application have been completely redesigned and enhanced. Features have been optimized and simplified.
A new backup system was set up. You can now back up and synchronize all your projects on a dedicated Cloud. If you lose or change your iPad, you can import all your projects on your new device simply logging in with your account ArchiReport.
The PDF report template was also reviewed. The PDF report appears more clearly, more organized and more dynamic. You will find all the information about your business and your site very easily: contact details, pictures, plans, drawings, annotations, comments, etc … You can easily make feel safe your customers with these weekly reports generated automatically.
The application will now be available as a monthly subscription at 9.99 € per month and it's a non-binding offer. You can unsubscribe any time you want without losing your data. These data will be saved and you can access up to 6 months after the end of your subscription. Before payment of the subscription application, you can test it for 30 days. So you can try for free all ArchiReport + features.
We hope this new version will please you and we look forward to your comments and suggestions on ArchiReport Plus to continue to improve.
Feel free to follow us on social networks: Facebook, Twitter, LinkedIn, Youtube… and to contact us by mail for any request contact@archireport.com.
Don't forget to come back here!
The ArchiReport team.