Site management has never been so easy
On site or in the office, Archireport helps with the day to day tasks involved in overseeing site works. Archireport's features help you to save time and keep on top of compliance, costs and deadlines.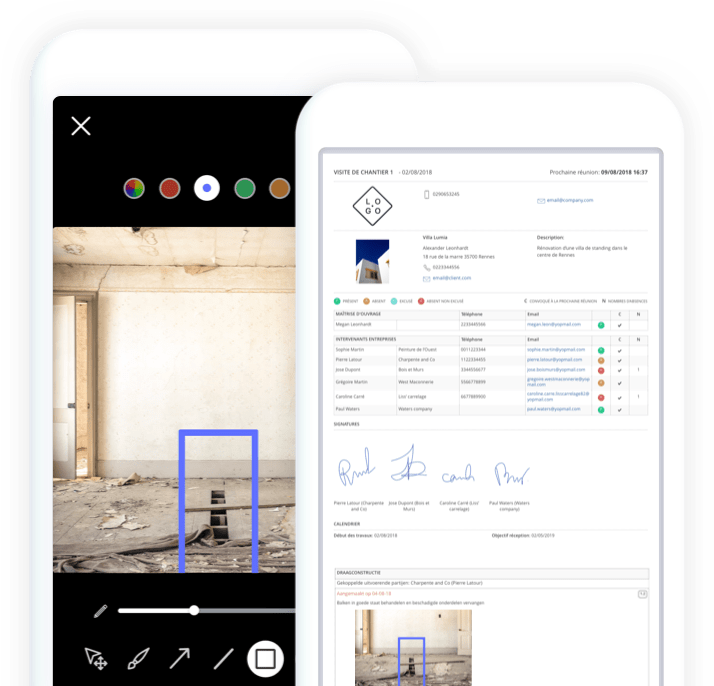 Write clear and detailed remarks
Note any remarks, observations and snags on site in just a few seconds with your phone or tablet. Add pictures, drawings and to-do lists, and check that work being done ticks the boxes for quality and conformity.
Pinpoint on a plan: use a marker to place your remark wherever you want it on the plan

Illustrate your remarks with photos and sketches to make them crystal clear

Sort your remarks by assigning them to various participants, work packages or sub-work packages
Read more about remarks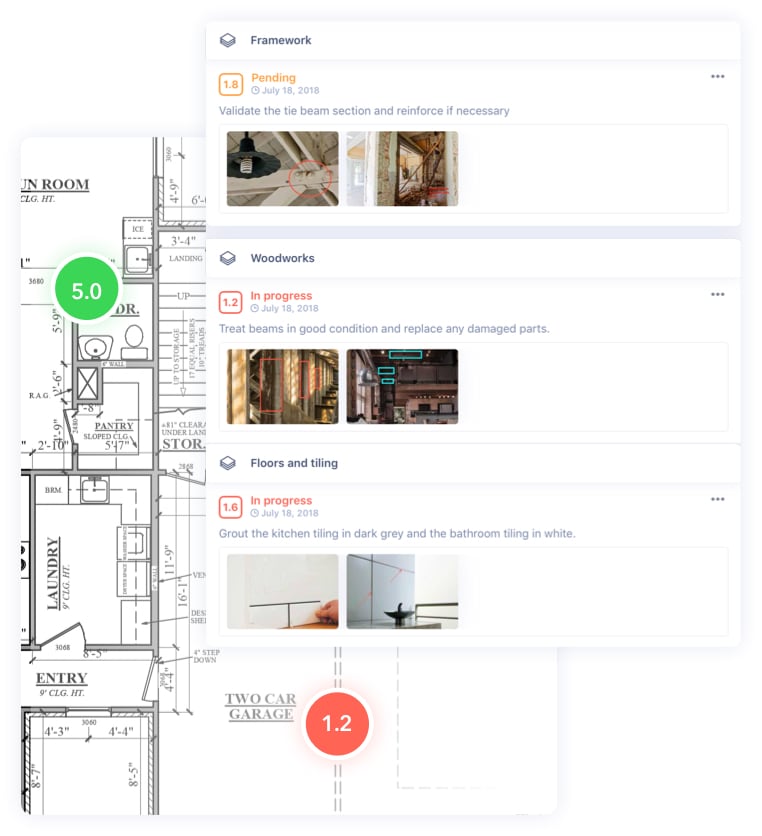 Generate detailed reports in seconds
Create high-quality PDF reports on your tablet as soon as the meeting is over. Your remarks, sketches, other people's drawings and plans are all pulled into the report, ensuring that your clients and contractors are kept up to date.
Customize the look and feel of your reports to fit your branding.

Send your reports straight from the app.

Configure the content of your reports and filter the remarks and work packages for each recipient.
Read more about reports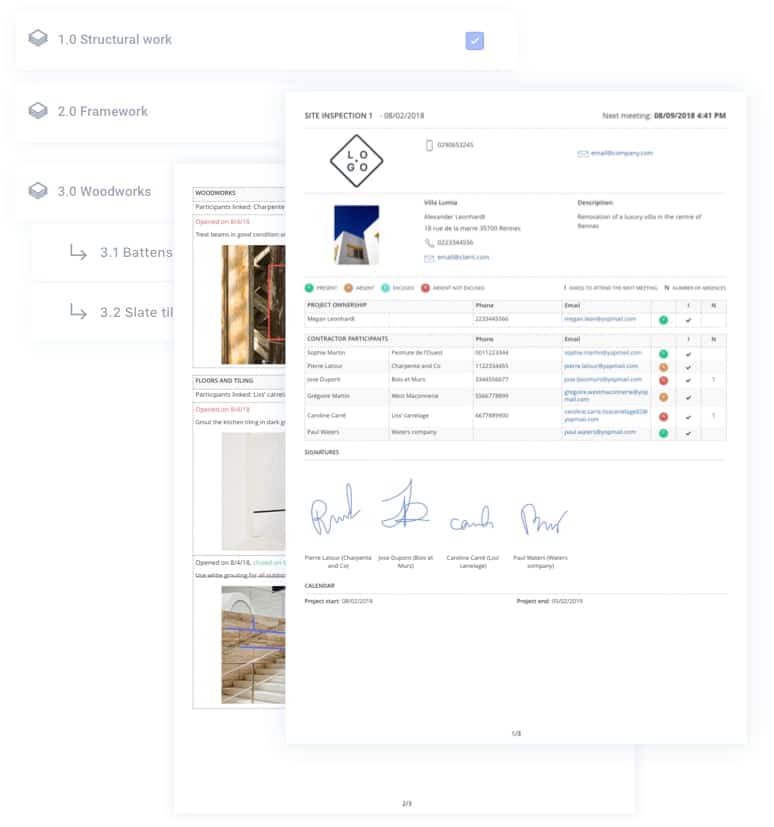 Structure and manage your projects easily
Split your projects into work packages and sub-work packages and manage all parties, remarks and schedules. Work with other teams and synchronize your projects so you can access them anywhere, at any time.
Read more about managing projects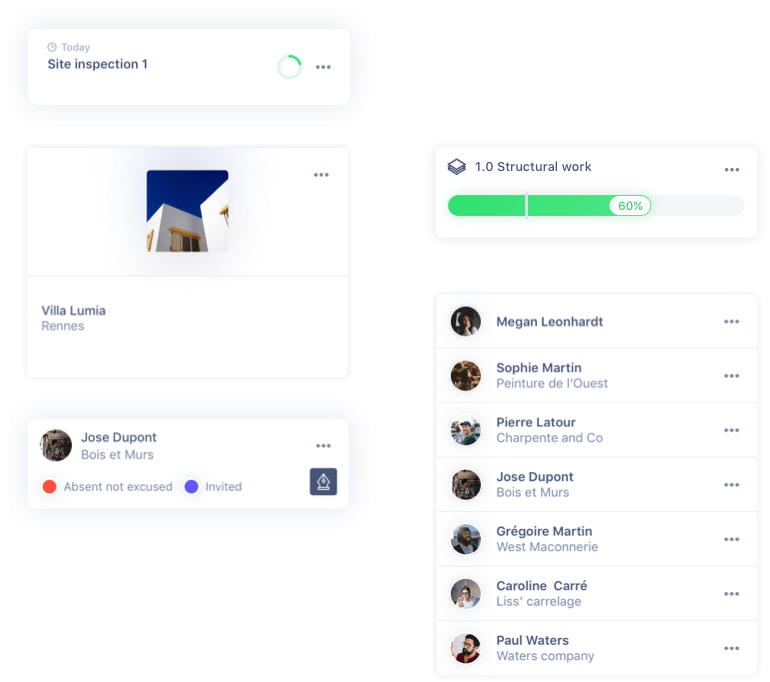 Your documents and plans at your fingertips
Whether it's plans, permits or pictures, import all your site documents so that you can view them on site or in the office
Import your documents from your favourite cloud platform or from your computer.

All your documents are stored and safe.
Read more about managing documents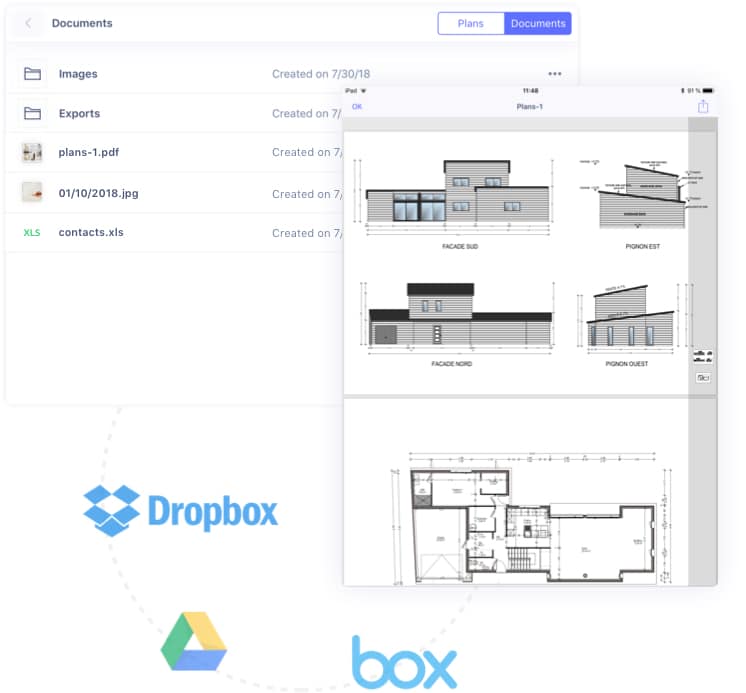 Get started in minutes
Try Archireport for free for 30 days or watch an online demo by one of our experts
Start my free trial

Create a free account
Create a new project with work packages
Import plans and participants
Head off to your site inspection with just your phone or tablet